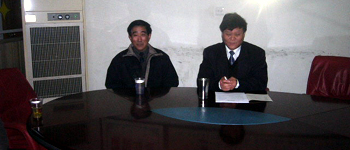 Captain Zhou: (Captain of Traffic Brigade of Wuzhong District)
Left: Captain Zhou
Right: Mr. Wu Genxiang, Chairman of Xinsheng
1. We should always keep safety in mind and pay attention to it rather than be fallen on deaf ears.
2. New traffic law will be valid since May of the next year. The new law will be more humanized and punishment will be increased. Highest fine will be adjusted to 5000 RMB.
Commissar Zhou (Commissar of Suzhou Traffic Police Detachment)
In the year of 2004, we should carry out transportation work safely. Traffic accident may occur in a split second. Benefit appears only after attaching great importance to safety.
1. Report the situation of traffic accident in 2003
The number of accidents is equivalent to those of previous years. The incidence of traffic accident remains high and heavy accidents occurs from time to time.
Situation in 2003 of Suzhou
Total number of traffic accidents: 9300
Number of deaths: 1039 (statistically, excluding those that are not listed in the statistical data)
Number o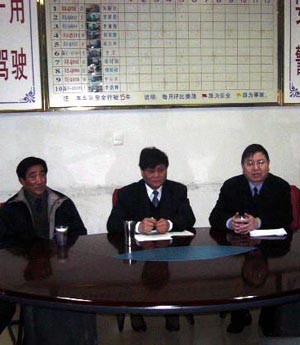 f casualties: 2272 (caused grievous bodily injury and disability)
Loss: more than 55 million RMB
Heavy accidents: 15 (kill more than 3 people)
The incidence of traffic accidents remains high because of the increase of traffic and the lack of safety consciousness.
Main reasons for traffic accidents are: 1. overload of trucks, 2. high speed of cars.
Characters of accidents: Accidents are more likely happen in overcast and rainy days, in positions of bad sight and in evenings (killed 272 people).
Left: Captain Zhou
Mid: Mr. Wu Genxiang, Chairman of Xinsheng
Right: Commissar Zhou of Suzhou Traffic Police Detachment
Reasons for accidents:
1. Fore-and-aft distance was not enough which may cause sideslipping.
2. Refuse to give way according to regulations when driving.
3. Appropriate emergency measures were not taken when driving.
4. Carelessness.
5. Illegal operations were made when driving.
Death in traffic accident caused by drunk driving accounts for 50 per cent of the total. In other words, one death was caused in every two accidents caused by drunk driving.
China is among the countries of highest traffic accident. More than 100 thousand people died in traffic accident each year, with 400 thousand casualties.
From December, 2003 to January 14th, 2004, 40 heavy traffic accidents which killed more than 5 people happened nationwide.
On January 5th, 9 cars crashed and 9 people died in Beijing.
On January 14th, 11 people died in Baoji.
2. In 2004, central government will straighten up in 5 areas and strengthen in 2 fields.
We will make straightening in ①drivers, ②road surface, ③transportation enterprises and safety awareness, ④ enterprises of vehicle modification, ⑤dangerous roads (where sideslipping usually happens).
We will strengthen ①responsibility system, ② road safety publicity and education.
Road Safety Act will be valid since May 1st, 2004.
3. Briefly analyze what safety problems you may meet.
Reasons:
①Rapid growth of vehicles.
Number of motor vehicles in Suzhou: 1136200
Number of vehicles: 153200
Number of new vehicles in Suzhou: 153200
Number of new vehicles: 81200
Number of new private cars: 51903
Number of new private vans: 29297
Introduction of foreign capital of Suzhou ranks the first in the nation. Its value of gross output is only next to Shanghai and its revenue reaches 40.9 billion RMB. The maximum flow of Shanghai-Nanjing Expressway is 130 thousand per day. The maximum number of vehicle licensed in one day is 600. In such a high density city, the rapid growth of vehicles will inevitably lead to the threatening to road safety.
②Accelerated road construction results in heavy traffic on road s which are not under construction. Statistics show that several people may die during the construction of each road.
③High speed
④Fresh drivers are increased dramatically and they are still inexperienced.
⑤Management mechanism causes the decline of vehicle condition.
4. How to transport safely in 2004:
Requirements: ① Guarantee the relationship between safety and benefits. No safety, no benefit.
② Strictly observe traffic regulations and forbid illegal driving.
Traffic regulations are congealed with blood!
Never pass double yellow lines in the middle of the road. Most accidents are caused by passing yellow lines.
③Strictly follow the operation procedure.
④Strike a balance between work and rest to keep abundant of energy and avoid fatigue driving.
⑤Maintain vehicle in a good condition.
Chairman gave a report on reviewing and the goal and the requirement in the next year.
1. Review the year of 2003 and make a stable progress in the next year.
Van vehicle team:
① Early warning mechanism has been established in Canon vehicle team to adapt to the operation of foreign enterprise. Shifting and handover of work comply with the schedule of Canon.
② Never decide on one's own. Report to the higher before making decisions.
Moving, bale packing and container unloading:
① Make continuous improvement.
② Form a well-prepared team (composed of regular employees and temporary employees).
③ Win the trust of customers.
④ Implement post responsibility.
Lifting, forklift moving: promote young staff and clarify responsibilities
Work in Stora Paper is intensive and of low benefit. In fierce competition, our company got our recognition of Stora Paper in the second half of 2003 with our good faith.
Goals and requirements in 2004:
1. Goals:
① Finish the basic establishment of van vehicle team in an active manner (to construct a basic size, form a basic team, occupy a stable proportion in the market and make cooperative business partners).
② Make regulations to moving, bale packing and container unloading operations. Take the 250 thousand JPY compensation as an alarming lesson.
③ The construction of the new plant has started and it will be finished at the end of the year.
④ Reform personnel system. Confirm the identification of each employee and conduct post examination. Establish personnel document. Implement prompt mechanism in vehicle inspection, personnel information and driving license inspection.
2. Job requirements:
① Clearly remember the corporate culture "Solidarity and Pragmatism"
② Clearly remember the aim of our company "Safety first".
③ Clearly remember the teach of Chairman "The small stream rise when the main stream is high".
3. Safety operation
① Intensify the examination
②Overcome the hidden danger of accidents in one mind.